It is good practice to limit the amount of personal information you make available to others.  From shredding personal documents at home, to choosing a suitable username online, it is up to you to protect your identity.  While LSN is intended for local trade, by nature, as a website, it is available to anyone with an internet connection, so you must consider what information you publish.
We recommend not using any part of your name when choosing a username (you cannot change it, so chose wisely).  It is also advised to not put any personal information in your ad.
When placing an ad, we encourage you to use our messaging system for initial contact.  If you chose to publish a personal phone number, pay close attention to the security settings made available.  You can force the buyer to log in to LSN to view your number.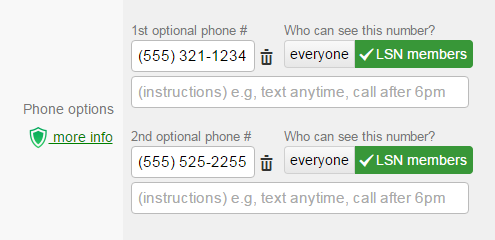 When communicating with other users, be sure never to transmit any private information.
Never provide any financial information (paypal, bank, credit card, etc) to other users.  Always perform transactions face to face.
LSN will never ask you for your private information (Social Security number, bank numbers, account password).  Anyone asking for this information claiming to be from LSN is a scammer.
LSN does not personally handle your credit card payment.  For purchases, we use third party systems which are PCI DSS compliant.  We neither see or store your payment information.